Echomed collaborates with experienced doctors, specialized in all Ultrasound (US) applications.
Echomed organizes group and individual Ultrasound lessons for doctors interested to educate themselves in Ultrasonography.
Individual lessons include US theory, demonstration of interesting US examination cases, observation of examinations performed by an experienced Radiologist and a practical lesson/examination on a model or patient. Individual lessons may be personalized depending on the needs of the trainee.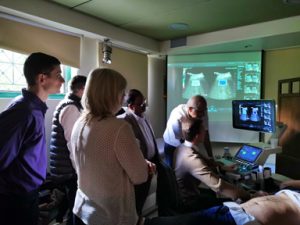 Echomed also organizes groups US lessons on all US fields. Groups US lessons typically include a theoretical and a practical part.
Interested in US training? Contact us today.